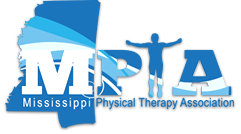 Order a Mississippi Physical Therapy Specialty License Plate
December 21, 2017
Jeremy Foster, PTA Wins the PTA of the Year Award
September 25, 2017
Carmen Cooper Oguz, PT, DPT, MBA, CWS, FCCWS Wins the 2017 Ben Piazza Award.
September 25, 2017
Mississippi Governor, Phil Bryant, signed House Bill No. 309 on May 9th regarding the Mississippi Physical Therapy Licensure Compact Act.
May 10, 2017
Make A Donation to Support Recovery Effort for Willliam Cary University PT Program
February 10, 2017

© Copyright 2011-2019 MSPTA.ORG. All Rights Reserved.
Website Design Company | WideNet