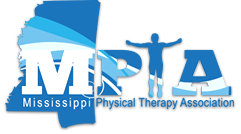 Jeremy Foster, PTA Wins the PTA of the Year Award
September 25, 2017
Jeremy Foster, PTA Wins the PTA of the Year Award
The PTA of the Year Award recognizes an individual who has made significant contributions to the profession of Physical Therapy or the community.
The recipient has been practicing as a physical therapist assistant and a member of the Mississippi Physical Therapy Association for at least four years. Contributions to the profession of physical therapy may include patient care, education, research or volunteerism in their community. The recipient must demonstrate and maintain high
personal and professional standards and serve as a role model for other professionals.

© Copyright 2011-2019 MSPTA.ORG. All Rights Reserved.
Website Design Company | WideNet