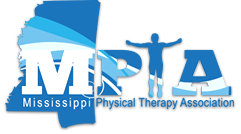 Registration is Now Open for the MPTA 2018 Fall Conference
July 24, 2018
MPTA Approved Contuning Education Opportunity:
May 4, 2018
Order a Mississippi Physical Therapy Specialty License Plate
December 21, 2017
Jeremy Foster, PTA Wins the PTA of the Year Award
September 25, 2017
Carmen Cooper Oguz, PT, DPT, MBA, CWS, FCCWS Wins the 2017 Ben Piazza Award.
September 25, 2017

© Copyright 2011-2018 MSPTA.ORG. All Rights Reserved.
Website Design Company | WideNet