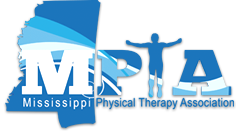 Why Join APTA?
APTA is your voice on Capitol Hill, both in Congress and in the federal agencies whose rules and regulations—particularly those involving health care reform and insurance reimbursement—affect your practice.

Through its chapter and districts, APTA also works on state and local levels to ensure that legislators understand the practice of the physical therapy profession.

Information
APTA is your publications, periodicals and information resource, featuring:
Practice management publications

Subscriptions to Physical Therapy, PT-Magazine of Physical Therapy & PT Bulletin.

APTA Home Page

NMAPTA Newsletter 3 times a year
Many Other Benefits Including:
Career Advancement

Conferences and workshops

Specialist Certification

MPTA Website

Self Assessment for Professional Development

Economic Benefits

Insurance Programs

Financial Services

Risk Management Resources

Take an active role in shaping the future of APTA and the profession

Join one of 19 specialty sections putting you in touch with others who share your professional interests

Legislative Updates that affect your profession curso de adobe premiere in Rio

Continuing Education at a discount

Representation/lobbyist at New Mexico level

Representation/lobbyist at Federal levels
Convenient Payment Options Available
Request one of APTA's flexible payment options.
Make your dues payments more manageable with the

Easy Pay Plan

, which lets you pay your membership dues in four payments over six months.
Save time and make certain your membership continues without interruption with the

Auto Renew Plan

, which automatically renews your membership annually.
To enroll, designate

Easy Pay Plan

or

Auto Renew Plan

on your application/renewal and pay with a credit/debit card. We'll do the rest.
For more details, visit www.apta.org/easypay or contact an APTA Member Services representative at 800/999-2782 or
memberservices@apta.or

g

© Copyright 2011-2019 MSPTA.ORG. All Rights Reserved.
Website Design Company | WideNet